Awards





We are honored to have received our first award: a recognition from Gigglepotz.com
They wrote:
We were very impressed with the content and design of your site. We are pleased to feature your website as our Cool School of the Week (US) beginning August 20th, 2001.Congratulations on making an impact on the Web, with your outstanding site!







On August 26,2001, we were awarded the Great Work award by Alphabet Soup
Do be sure and check our this site for great educational ideas.
They wrote:
It is with great pleasure that I present you with the Great Work Award for the wonderful job you have done on your site!! I thoroughly enjoyed my visit!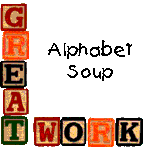 In September 2001 this Web Site was selected to receive the "Songs 4 Teachers A+ Site Award" as a site that they feel are examples of sites that provide value to the educational community.
They wrote:
We believe that your Web Site meets our criteria as:
-->Primarily a non-commercial site
-->Content-oriented, not simply a Web Site with links to other sites
-->Informative, providing educational content of value to other educators
-->"Kid Safe"
"Songs 4 Teachers" reviews over 100 Web Sites per month and selects 10 Web Sites to receive our award.
(We are grateful for being considered!)





Also in September 2001 we were selected to receive the 'Teacher's Corner Award of Excellence'! Thank you so much for selecting us!!!!